Fairfax Station — The pressure that comes with being an elite student-athlete was wearing on Sophie Chase as she broke down in tears at the Monroe Parker Invitational on Sept. 8.
After winning the event each of the last two seasons, the Lake Braddock senior pulled out of this year's race due to hip pain. Along with scholastic stress, Chase had concerns whether she could match her junior-year success as a runner, which included a cross country state championship in the fall and a state title in the outdoor 3,200 during the spring.
"I was kind of run down," Chase said recently. "I was a little worried going into the season that I wouldn't be at the level I was last year, because last year was a pretty big year for me. I was just really stressed out about college and school and everything, and it almost wasn't fun at that point. I just had to take a step back for a minute and start training again [and] get my confidence back up."
Six weeks later, a re-energized Chase won her third consecutive Patriot District championship on Oct. 25, recording a time of 17:02 at the district meet on a warm day at Burke Lake Park. Chase's performance was part of a dominant effort by the Bruins, who captured the team title with a score of 25. West Springfield (second, 49), West Potomac (third, 79) and South County (fourth, 89) also earned regional berths.
LAKE BRADDOCK had five harriers place in the top 10.
"We averaged below 18 minutes, which is flying," Lake Braddock head coach Michael Mangan said. "… That's rare area."
Chase, who said she focused on place, rather than time during the event, finished seven seconds ahead of runner-up Caroline Alcorta of West Springfield, who finished in 17:09.
"[Chase has] done an awesome job," Mangan said. "She's very task oriented and very detail oriented. She took her hip issue and has done all the things to make sure that it's not only recovered, but is not going to become an issue. …
"That day (at the Monroe Parker Invitational) may be the biggest day of our season. When it was bothering her, she spoke up, I asked her to stop and she did. That was a pretty mature thing to be able to say: I've won Monroe Parker the last two years and now I'm going to give it away because I've got to stop. … That was big for our team. Could she have finished that day? Yeah. But would she have probably aggravated it a lot worse? Yeah. She might have missed a lot of time and [we would not be] where we're at."
"[The girls' team] averaged below 18 minutes, which is flying. … That's rare area."

--- Lake Braddock cross country coach Michael Mangan
Lake Braddock's Hannah Christen placed third (17:34). Katie Roche finished fourth (17:39), Katy Kunc placed ninth (18:37) and Misha Suresh finished 10th (18:41).
Roche had a strong performance during a team workout three days prior.
"We ran a workout on Monday that [Roche] did awesome," Mangan said. "We ran a hard mile at the end of it and she actually ran a time that would be a state auto qualifier in the mile in track and you could see the confidence. She got out here and went from being an over-18-minute runner to [17:39]."
Mangan said Suresh struggled during the spring but has bounced back to take over the team's No. 5 position.
"[Suresh] put it all back together, did all the work and has been a great leader this fall," Mangan said. "[It] makes our team so much better having that big-time No. 5 runner. Before today, we were one short with lots of applicants. Now somebody said, no, that's my job, I've got it."
Lee's Bailey Kolonich placed fifth (17:58), followed by West Springfield's Maddie Wittich (sixth, 18:05), West Potomac's Katie Genuario (seventh, 18:16) and West Springfield's Katie Kennedy (eighth, 18:23).
West Potomac's Lauren Price finished 11th (18:56), Woodson's JaHyun Yang finished 12th (18:59) and South County's Mary Cate Scully (19:02) and Emily Lamontagne (19:02) finished 13th and 14th, respectively. West Potomac's Sophia Passacantando was 15th (19:07).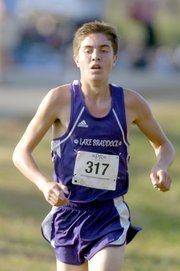 THE LAKE BRADDOCK BOYS' TEAM also captured a district title, led by individual champion Nick Tuck.
Lake Braddock finished with a score of 55. The Bruins had five harriers place in the top 20, including three in the top 15. West Potomac finished second with a score of 66, followed by West Springfield (78) and Woodson (118).
Tuck finished with a time of 15:11, 25 seconds ahead of runner-up Anteneh Girma of T.C. Williams (15:36).
"I'm just glad that our team got it more than me getting it myself," Tuck said about winning a district title. "It's a lot more fun going up there with my teammates."
Mangan said Tuck is capable of producing a faster time.
"No boy for Braddock has ever broken 15 minutes on this course," Mangan said. "All the great Braddock teams in the past just never had that guy. I think next week (at regionals), if we get a nice weather day --- Hurricane Sandy, go away --- but if this course is anything like it is today, I think he'll do it."
Lake Braddock's Alex Corbett placed sixth (16:00). Forrest Isenhour finished 15th (16:15), Kevin Monogue was 16th (16:16) and Ben Fogg finished 18th (16:22).
South County's Alec Jones placed third (15:42) and Lee's Biruk Amare finished fourth (15:58). West Springfield's William Rabil placed sixth (16:02), followed by West Potomac's Luca Halladay (seventh, 16:02) and Nick Cucinotta (eighth, 16:03), T.C. Williams' Nick Brown (ninth, 16:08) and West Potomac's Corey Rosenberg (10th, 16:12).
West Springfield's John Amann finished 11th (16:12) and Joey Spaziani was 12th (16:13). Annandale's Aviad Gebrehiwot finished 13th (16:14) and Woodson's David Falcone was 14th (16:15).
The Northern Region cross country championship meet was re-scheduled for Friday, Nov. 2 at Burke Lake Park.