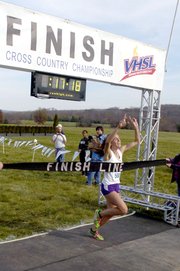 After finishing third as a freshman and runner-up by less than one second as a sophomore, Lake Braddock's Sophie Chase finally captured a state cross country championship as a junior in 2011.
But while Chase was finally No. 1, something was missing. The Lake Braddock girls' team won the state title in 2009 and finished fifth in 2010. But in 2011, the Bruins failed to qualify for states, leaving Chase and then-sophomore Hannah Christen to compete as individuals.
One year later, Chase, now a senior, was back on the podium at Great Meadow, having captured her second consecutive state title. This time, however, she got to share championship joy with her teammates.
Chase's individual title helped Lake Braddock win its second AAA team championship in four years during the VHSL state meet on Nov. 10. The Bruins finished with a score of 47, well ahead of runner-up Oakton (101) and third-place Midlothian (101), who were separated by a sixth-runner tiebreaker.
"It's unbelievable that a year ago at this place, I was here without a team --- me and Hannah were here alone," Chase said. "To have come so far in a year just shows the will power [of this team]."
Chase finished with a time of 17:24, 21 seconds ahead of runner-up Caroline Alcorta of West Springfield. The top 15 individuals receive all-state honors.
"The goal really today wasn't to win as an individual," Chase said, "it was to win as a team and we accomplished that goal --- a goal that we've been looking forward to since July 1."
Christen finished third for Lake Braddock with a time of 17:54, giving her back-to-back all-state per performances (12th in 2011). Katie Roche (18:17) was sixth, Katy Kunc (18:55) was 18th and Misha Suresh (19:26) was 38th.
"It's unbelievable that a year ago at this place, I was here without a team --- me and Hannah were here alone. To have come so far in a year just shows the will power [of this team]."

--- Lake Braddock senior Sophie Chase
"They were great," Lake Braddock head coach Michael Mangan said about the girls' team. "They had a lot of pressure on them. As coaches, we're trying to just keep them loose and happy and stay out of the way and not over-coach and let them do their job --- and boy did they do their job."
Roche struggled as a sophomore last season before discovering she suffered from iron deficiency. With her iron level back where it should be, Roche's junior year took off after she gained confidence with a strong workout prior to the Patriot District championships on Oct. 25 and continued with an all-state performance on Saturday.
"I didn't realize it at the time, so I just thought I [stunk]," Roche said. "Then I got it checked out and I started taking iron and I feel a lot better during my races. … I'm glad I could serve my team better. I felt like I wasn't helping them as much last year and so now I feel a lot better about helping my teammates."
In the AAA boys' race, Lake Braddock senior Nick Tuck finished state runner-up with a time of 15:29. It was Tuck's second straight all-state performance, including a sixth-place time of 15:45 last year.
Chantilly senior Sean McGorty won the state title with a course-record time of 14:47. Tuck said he planned to go after McGorty, but decided to leave enough energy to ensure a second-place finish.
"My plan was go out and try to go for the win," Tuck said. "If I die, I die. I'm going to still be proud of myself no matter how I did because at least I went for it, and I think I'm pretty proud of myself today. … I still tried to catch Sean as much as I could, but I also wanted to save enough energy just in case I didn't have enough gas for the end."
Mangan spoke highly of Tuck's effort.
"[Tuck] went out to hang out close to Sean McGorty, figured it would pull him away from the other guys," Mangan said. "That's all well and good and easy to do the first mile, but then you pay the second and third mile and he just would not give in. … It would have been suicide to go out after Sean [for an extended period of time]. It really would have been. That's where you get into the land of you might not finish."
Tuck's effort helped the Lake Braddock boys' team finish fourth with a total of 125. Chantilly won the team title with 57, followed by Midlothian (72) and Battlefield (128).
Alex Corbett, Forrest Isenhour, Kevin Monogue and Ben Fogg were also point-scoring harriers for Lake Braddock.