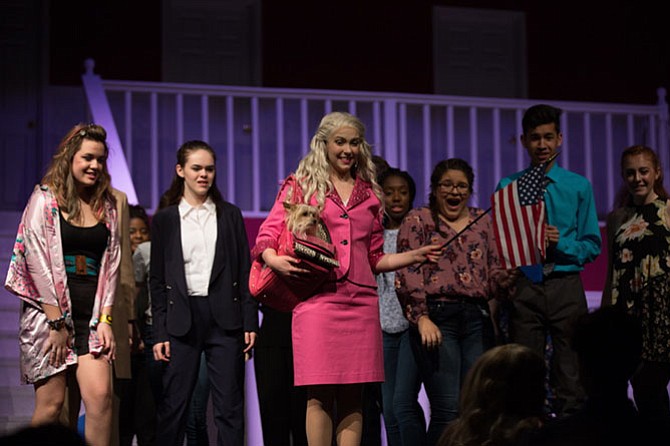 Harvard Law School – serious, cutthroat, and monochromatically black – is rocked to its core when a whirl of blonde hair and effervescent pink enters campus. Will Elle Woods manage to overcome the "dumb blonde" stereotype, make pink the new black, and prove her worth? South County High School's production of "Legally Blonde" was positively rosy, reminding us all that staying true to ourselves is "oh so much better!"
In the midst of the #MeToo movement, "Legally Blonde" is a relevant testament to what women are capable of and still deserve. Elle Woods, Delta Nu president at UCLA, follows her ex-boyfriend to Harvard Law School in order to win him back. Along the way, she meets new friends, argues cases, and discovers what she is truly capable of. This story began as a famous 2001 movie, starring Reese Witherspoon, and was adapted into a Broadway musical in 2007. The musical received seven Tony nominations, including Best Lead Actress in a Musical.
As our favorite blonde heroine, Gabriella Mancusi was as refreshing as Chanel perfume. She stepped into the sparkly heels of Elle with skill, fully encompassing Woods' bubbly demeanor. Mancusi's love interest Emmett, portrayed by Kevon Thompson, was an endearingly relatable character. Thompson and Mancusi depicted the blossoming relationship between Elle and Emmett with personalized touches, such as a consistently adorable hand-shake, that showcased their laudable chemistry.
A standout performer of the evening was Hannah Chester's Brooke Wyndham. Chester showcased impressive endurance during "Whipped Into Shape," in which she jumped rope and sang at the same time. Another notable performance was Spencer Kipps as Kyle, who used his unfailing abundance of energy to elicit peals of laughter. Kyle's eventual wife, Paulette (Lulu Romero), was superbly hilarious as well. Other notable actors included Armin Mahmutovic as Professor Callahan, who completely embraced the sleazy nature of his character, and Dylan Schultz as Warner Huntington III, whose outstanding vocals shone through in "Serious."
The company as a whole contained two commendable ensembles: the Greek Chorus/Delta Nus and the legal team. The three leading Delta Nu girls blended together smoothly, while also maintaining three strong and distinct characters. The legal team similarly embraced the differences in their respective characters, while also working together dynamically.
The technical aspects of the show breathed new life into Elle's journey. The set was notably versatile, transitioning smoothly between the various and drastically different locations. The orchestra also executed their task admirably, most impressively when adapting to any missed vocal entrances.
Some may dream of leprechauns in Ireland, but South County certainly dreamed up a show that was "oh my god!" worthy. This story of sisterhood, justice, and redemption proved that, in the end, loving yourself for who you are is what matters most.