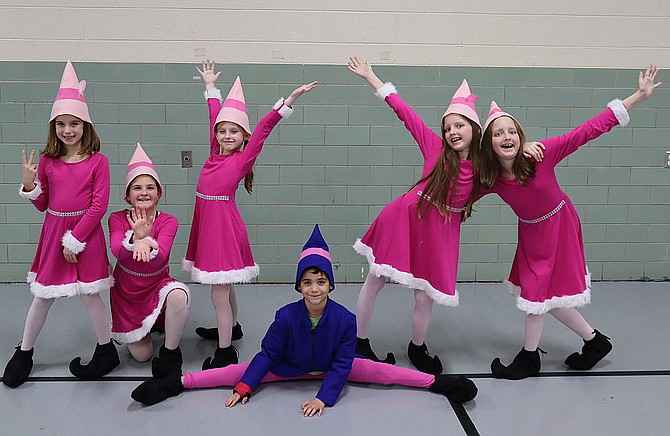 Filled with all the beloved characters from the animated TV special children know and love, "Rudolph the Red-Nosed Reindeer" is this season's holiday show from City of Fairfax Theatre Co.
Performances will be Thursday, Friday and Saturday, Dec. 8, 9 and 10, at 7:30 p.m., and Sunday, Dec. 11, at 2 p.m., at Vienna Baptist Church, 541 Marshall Road SW in Vienna. Tickets are $20, adults; $15, children 12 and under at the door or via https://fairfaxcitytheatre.ticketleap.com/rudolph-the-red-nosed-reindeer/.
Because of his shiny nose, Rudolph doesn't think he belongs in Christmastown, so he searches for a place that'll accept him. Along the way, he meets fellow misfits and learns that Christmastown really is his home. He also discovers that his difference makes him special – and enables him to guide Santa's sleigh and save Christmas.
The cast and crew of 50 have been rehearsing since September, and Director Sierra Hoffman, a 2017 Fairfax High grad, said it's wonderful having people of all different ages, from age 7 to adult, in the same room together. "We have so many incredibly talented cast members, I'm really impressed," she said. "There are lots of families in the show, some people in their first play and others, very experienced."
In trying to recreate such an iconic movie, said Hoffman, "We're borrowing lots of its costumes and puppetry. For example, we're building a huge, 8-foot-high puppet of Bumble, the abominable snow monster. And the scenery will portray outdoor snowscapes, the North Pole and Santa's workshop.
Her favorite number in this musical is "The Island of Misfit Toys" because "It's a really cute song, the toys' costumes are adorable and it's a classic song that everyone remembers from the movie." She said the audience "will love this show's nostalgia, and it'll get people in the Christmas spirit and spread the joy. The music will be great, and the stage and costumes will be visually appealing."
Music Director Luke Hemmingson said the show has "tons of fun, holiday numbers – some from the movie and some that are original to this musical," such as "Rockin' around the Christmas Tree," "A Merry, Merry Christmas to You" and "When Santa Claus Gets Your Letter." Some characters will sing solos, while others – including elves and reindeer – will perform together in groups.
"There'll also be sing-along opportunities for the audience," said Hemmingson. "These songs are so classic that we want the audience to really join in the fun. And the cast brings so much Christmas energy, it lights up every song. Their powerful voices really shine with their love for the holidays."
He especially likes the tune, "We are Santa's Elves," because "It's just so jolly and the performers are having such a good time that the audience will, too. They'll also love how festive the whole show is, and all the cute moments will warm their hearts."
Playing King Moonracer, ruler of the Island of Misfit Toys, is Fairfax City resident Shalon Ironroad. "He's ethereal, warm and a strong leader," she said. "He flies around, collects all the toys that don't fit in and gives them a home. They're atypical – for example, a Charlie [instead of a Jack] in the box, a train with square wheels and a broken airplane – and would otherwise be cast aside."
Loving her role, Ironroad said, "Being a woman, I wouldn't be the usual choice for it, so I thought, 'OK, I can fit in.' I love the idea that even the toys that don't fit in can have a place to be. And really, that's the message of the show – what makes you different can be your strength."
Her favorite song is "Have a Holly Jolly Christmas" because "Everyone is in it, and it showcases each character and sets the magical tone for the rest of the show. I grew up watching the animated version of "Rudolph," so seeing this show will make people feel extra nostalgic. The kids are absolutely adorable – including two of mine – and there's some really great talent in the cast, especially Chris Dockins, who plays our cheerful narrator, Sam the Snowman."
Another City resident, Jack Lockrem, portrays Yukon Cornelius. "At his core, he's a guy looking for something to call his own," said Lockrem. "He especially wants to find an ore patch of silver and gold so he can get some money. At first, he's all for himself; but when he meets Rudolph and Hermey the misfit elf, he discovers the importance of friends. And he even ends up saving them when they get into a spot of trouble with the abominable snowman."