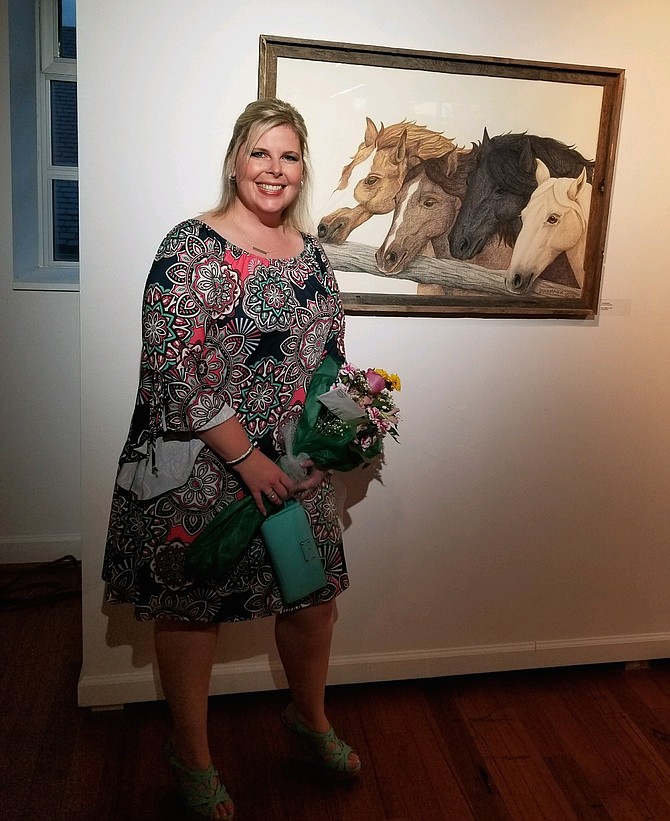 Fifty-two Fairfax County art teachers submitted their original works into the Annual Artist Teacher Exhibition, and only 29 were accepted. Ashley Birkmaier was one of them. Birkmaier is one of the art teachers at Laurel Hill Elementary School in Lorton.
"I submitted two animal pictures: little piglets and little horses. The horses got in, the piglets did not, which I found shocking. But they picked one over the other." She added that she expected to get in this year, "but you never know; I submitted three last year and they were really good pieces but did not get selected. It depends on who the jury is and what their taste is," she said.
According to the Fairfax County Public Schools' website, Justin Sutters, director of the George Mason University graduation art education program, was the art juror.
The 10th annual Artist Teacher Exhibition is one way that Fairfax County recognizes its art teachers in collaboration with the Workhouse Arts Center, where it was exhibited from Sept. 27 to Oct. 28 in the McGuire Woods Gallery.
The picture of the horses was a gift for Birkmaier's boyfriend. "I submitted without him knowing; I had to steal it from his family room. It was not created for the show but you can submit artwork that you've done in the past two years. It has to be current artwork."
Birkmaier took some feedback from her students at Laurel Hill Elementary School before she finished her art work: "I brought it in and I told them I was debating where to sign it, because it is important to put your signature but you don't want to take away from the artwork, and one of the little boys told me to sign it on the fence and make it look like it was carved into the fence and that is what I did! I thought it is was a good idea!"
Birkmaier thinks that Fairfax County has a strong art program. "Many counties come to Fairfax to look at our curriculum; we have a nice budget; we have a South County Art Show with the elementary, middle and high schools at the Workhouse Arts Center every year," said Birkmaier. "I feel lucky to work here but you can always hope for more. My greatest wish is that the kids will be able to have art twice a week, like physical education and music."
Three other teachers from Lorton were recognized: Justyne Fischer and Scott Saylor of South County High School and Anne Gorham of Gunston Elementary School.
More like this story