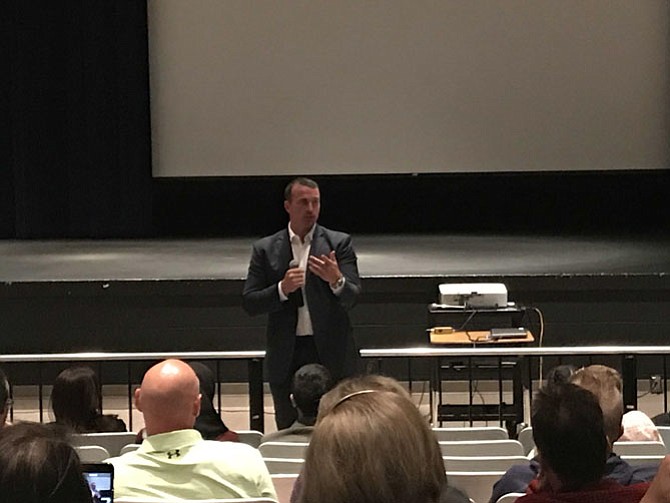 "The beauty of living in sobriety is that you find the silver lining in your saddest stories," said former NBA player Chris Herren. "You make peace with the past. You forgive – and you allow yourself to be forgiven."
Herren spoke and shared his story Monday, Oct. 2 to parents at Fairfax High School. Students at the high school also gathered earlier that day to listen to Herren's speech during school hours. The focus of his speech encompassed Herren's personal journey through recovery and addiction, and the need for communities to focus on wellness.
Herren had it all, lost it all, then struggled to build it all back. He started drinking and smoking pot infrequently as a teen then tried a line of cocaine for the first time in college. It led to a 14-year long addiction on numerous different substances, which would go on to cost Herren $25,000 a month to support. Landing a stint with the Boston Celtics, getting kicked out of college or seeing his newborn son couldn't help end it.
"It's hard in any profession – hiding," Herren said. "It's hard no matter what you do in life to balance work and an illness. Often times, they don't go together. To try to manage that and sustain that, it was exhausting and unmanageable."
Herren will continue to share his story around high schools in Fairfax County throughout the week as well. By speaking to high schoolers, faculty and parents, Herren hopes to change the attitude of those willing to listen.
"I think when it comes to addiction, as communities, we've put so much emphasis on how bad it gets instead of how it begins," Herren said. "We want to show our kids how ugly and painful addiction becomes instead of understanding at 13, 14, 15, 16 years old why we would even take a chance on letting it begin."
Challenging educators and children to change the structure of the typical systems they live in is one major factor Herren wants to influence. He is now nine years sober.

"I think wellness should be a core class from the beginning," Herren said. "I think you should empower kids to be able to communicate their struggle and to build their self-esteem and self worth. Not every kid has a uniform to hide behind and build their confidence. Not every kid is involved in sports or theater or band. There's a lot of kids out there that need some affirmation."
One parent in the crowd, Alina Lockridge, admitted that Herren's speech to high school students earlier that day helped her daughter grow interested in understanding their family's past with addiction.
"At first, I did not want to come down," Lockridge said. "[My daughter] started talking about what she experienced and the things I thought I had hid from her about my family's addiction. You put it in such a way that made her think and frame it as, 'What did they experience? How can we help them?'"