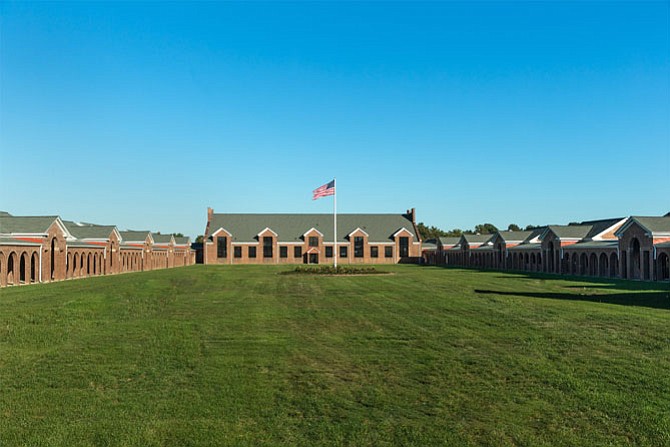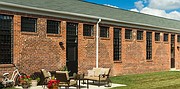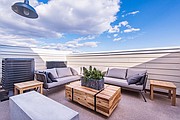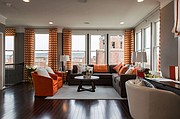 A $190 million project consisting of 352 residential units called Liberty is being built in Lorton on 80 acres at the former Lorton Reformatory. The prison's 40-45 original buildings still remain but they have been completely renovated with new utilities, air conditioning, heating, and plumbing. It's a public-private partnership between Elm Street Development, The Alexander Company, and Fairfax County.
Elm Street Development of McLean has been working with Supervisor Dan Storck and before him, Gerry Hyland since 2011 on the project. It took about seven years to get the rezoning and site plan approved for the renovation of the buildings, grading, roads, and utilities, in order for the construction to begin.
"We are trying to create a vibrant, new urban village – a place where people can live, work, and play in an historic setting," said Jack Perkins, Vice President of Elm Street Development, who lives in Old Town Alexandria. This development on the National Register of Historic Places offers a mix of housing types for everybody – young families, singles, empty-nesters, as well as move-up buyers, said Perkins.
He added, "So, to us, it was a once-in-a-lifetime opportunity to create something new in an interesting historic setting. We're in Northern Virginia, and there's something intriguing about a prison. We thought it was very exciting and an interesting opportunity to take an historic prison and adaptively reuse it to a new residential, retail office use." It's interesting to note that the final prisoners were transferred out in November 2001.
What's being built are 165 Liberty Crest Apartment units in the historic reformatory buildings. "The Alexander Company is adaptively reusing the historic prison buildings; these are the original buildings from 1913. They're being adapted and made into apartments," said Perkins. In addition, six condos will be incorporated into the Liberty Crest Apartments during Phase 2 of construction; so eventually there will be 171 apartments.
THE APARTMENTS consist of one- and two-bedroom units. The one bedrooms have up to 1 1/2 baths and the two-bedrooms have two full baths. Rent for the one-bedrooms begins at $955 to $1,600 with various floor plans. The two-bedrooms start at $1,155 and go up to $2,400. There are 44 units that are considered affordable housing units; the rest rent at market rate. The apartments are now 2/3 leased and occupied; they opened in May 2017.
There are 157 townhouses slated to be built by Van Metre Homes with 83 in the first phase of construction and the rest in the second phase. Prices start in the high $500,000s to mid-$600,000s range. They are three- and four-story townhomes with 2,500 square feet of living space that include three and four bedrooms with two-car garages. All of them offer a rooftop outdoor space and a deck. They've already sold 10-12 units, which are occupied; they went on the market in May 2017.
There are 24 single family homes built by Van Metre, starting in the mid-$800,000s and going up to $900,000. The two- and three-level homes with two-car garages and private backyards have 3,000 to 4,000 square footage. Six single family homes are now occupied.
The project includes 60,000 square feet of retail at the maximum-security facility, which will be part of the Phase 2 construction slated to begin in fall 2018. "We have the ability to build another 50,000 square feet, so the total commercial use inside the penitentiary is 110,000 square feet. And then there is other commercial space in Phase One, which is about 16,000 square feet in the renovated Old Historic Chapel (built in 1961), and another 8,000 square feet in the Power House Building. Both are zoned for a variety of commercial uses – they could be office, retail, or a church," said Perkins. Both the Chapel and Power House are ready for tenants.
NEARBY AMENITIES include the Workhouse Arts Center, Giles Run Meadow Park, the 18-hole Laurel Hill Golf Club, and the Gerry Connolly Cross Country Trail, which intersects the property. On the property itself is a 24-yard lap swimming pool, fitness center, and yoga room. For nearby shopping, there's Lorton Station Shopping Center and the Shoppes of Lorton Valley.
For more information on the Liberty complex, visit the website at www.thelibertylife.com.