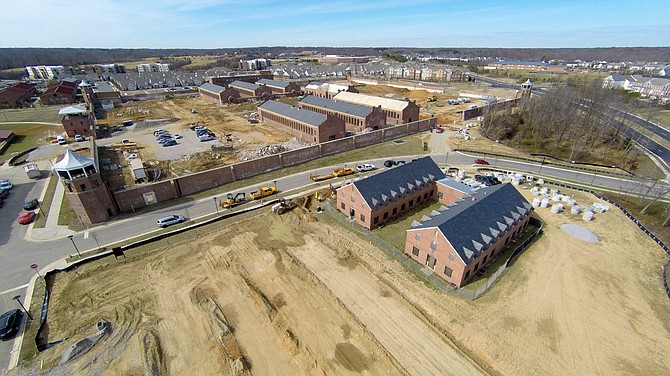 Wisconsin-based Alexander Company has broken ground on the final phase of apartments at the former Lorton Reformatory, now known as Liberty Crest.
"When we embarked on this journey over ten years ago, no one quite knew how the redevelopment of a former prison would be embraced," says Joe Alexander, President. "The successful transformation of Liberty into a vibrant, inviting community hub has exceeded all expectations."
The first phase of the redevelopment delivered 165 historic apartments in the footprint of the former reformatory. This rehabilitation effort, part of phase two, is adaptively reusing the former guards' quarters near Silverbrook Road as six townhome-style apartments with open floor plans. Construction has commenced and the community will welcome new residents in November 2019. Floor plans and renderings will be available soon.
The apartments consist of one- and two-bedroom layouts, some with dens, ranging in rents from $2,100 per month for 1,372 square feet up to $3,100 per month for 2,054 square feet. Apartment finishes will be vastly different from the historic apartments completed in phase one, including distinctively open floor plans, quartz countertops, porcelain tile bath surrounds, and other thoughtfully elevated features. Residents will have access to all the shared amenities of the campus – the club room, fitness center, swimming pool, tot lots, 3+ acres of green space, Gerry Connolly Cross Country Trail, and the coming Liberty Market.
Originally commissioned by Theodore Roosevelt in the early 20th century, the historic Lorton Prison has undergone extensive redevelopment. The Alexander Company, Elm Street Development, and Fairfax County transformed the prison complex into a vibrant hub of community residences, workplaces, shopping, and green space. Liberty, the name of the new community, has given new life to historic buildings with a checkered past while preserving the historic character of the site, which is listed on the National Register of Historic Places.