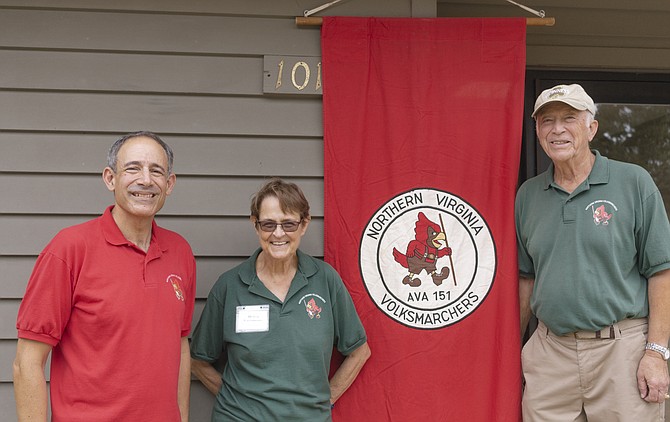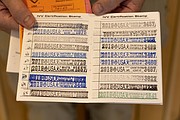 Residents gather around a church early on a Saturday morning to walk, jog, and bike. The winner is no one. Why? Because "everybody who finishes is a winner," says Helen Garamone, the current president of the Northern Virginia Volksmarchers.
Oktoberfest Volksmarch Walk kicked off on Saturday, Sept. 14, at 8 a.m. at Accotink Unitarian Universalist Church in Burke. The event was sponsored by the Northern Virginia Volksmarchers who invited the Northern Virginia biking group and American Pilgrims on the Camino, made up of people who hiked the Camino de Santiago walk or want to in the future, to participate. The trail for the seventy-four walkers started at the church and did a loop around Burke Lake while the trail for the sixteen bikers was twenty-four miles long, traveling to Occoquan park and back. Lastly, the sixteen walkers from the American Pilgrims of the Camino walked to South Run Park and back. After the participants are done, they go to a checkpoint and get their passports stamped for each walk, jog, or bike they complete. Over time, once they collect enough stamps, they are eligible to win prizes.
For those unfamiliar with Volksmarching, it began in Germany at the end of WWII. "The Germans wanted a non-competitive sport. They came up with this wonderful thing called Volksmarch," said Bob Mclean, a member and former President of the Northern Virginia Volksmarchers. Despite being known and spelled as Volksmarch internationally, in Germany it is spelled and known as Volkswandertag. Volksmarching is popular in Europe and other countries around the world. "It's in Asia, in Africa, I don't think they have it in Antarctica [laughs], and in South America," said Mclean.
Garamone, the current President of the club adds, "It [volksmarch] translates to walk of the people." When asked whether the passports were a form of competition, she said, "It's a competition with yourself." The passports are merely an object in which self-pride is attached to as the result of an individual's accomplishments being recorded in it. Garamone goes on to list the three objectives the group has: "The three F's we have is fun, fitness, and fellowship."