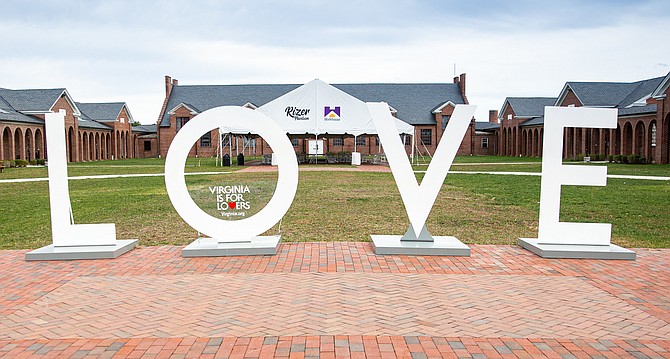 The Workhouse Arts Center has announced the unveiling of the Virginia Tourism LOVEworks sign, permanently located on the Workhouse campus Quad, on Friday, Feb. 14, 2020 at 10 a.m. This event is open to the public.
A ribbon cutting will take place after remarks from several county executives, including Supervisor Dan Storck, Visit Fairfax President & CEO Barry Biggar, and Workhouse Arts Center President & CEO Ava Spece. A pop-up coffee bar hosted by Dunkin' Donuts and other treats will be available.
The unveiling will be part of a week-long celebration of love that also includes The Chocolatier, a culinary workshop (Friday, Feb. 7, 6-9 p.m.); Couples Yoga and Cacao Chocolate Tasting (Saturday, Feb. 8, 1-3 p.m.); the Second Saturday Art Walk (Saturday, Feb. 8, 6-9 p.m.); and Couples Therapy: A Comedy Show by Rahmein Presents (Friday, Feb. 14, 8 p.m.)
Artist Marlon Diggs, "Marly McFly," transformed the Virginia Tourism LOVEworks sign at the end of 2019. He was selected by a jury from an open call for artists to have their work featured on the LOVEworks sign. Using acrylic and spray paint, the transformation took a total of 4 days.
McFly found inspiration in the word "love" and created a collage of facial expressions communicating this term of affection. Through layered and intertwined colorways, graphics and texture, his work represents a melting pot of culture.
He rooted the artwork by acknowledging the LOVEworks sign's location through the incorporation of brick and archway visual elements, each representative of the Workhouse Arts Center's history.
The LOVE letters, representing the "Virginia is for Lovers" slogan, is Fairfax County's first permanent Virginia LOVEworks sign. Last summer, as part of the state's celebration of the iconic slogan's 50th anniversary, Visit Fairfax, the county's official tourism organization, held a ribbon-cutting for the sign before sending it off on an 11-stop tour of Fairfax County, highlighting the various visitor experiences within the destination.
"Visit Fairfax is thrilled that Fairfax County's first official LOVEworks sign now has a permanent home at the stunning Workhouse Arts Center, a place that brings together the county's past and present in a beautifully rich way and truly showcases the power of art," said Barry Biggar, Visit Fairfax President & CEO. "Visitors and residents will enjoy snapping photos with the sign and spending time at this gem of an attraction in Fairfax County."
Workhouse Arts Center is a vibrant organization located at a unique site which offers engaging opportunities and inspiring experiences in visual and performing arts, history and education. Public art is important to enriching communities, igniting imagination, encouraging thought and brightening our common spaces.