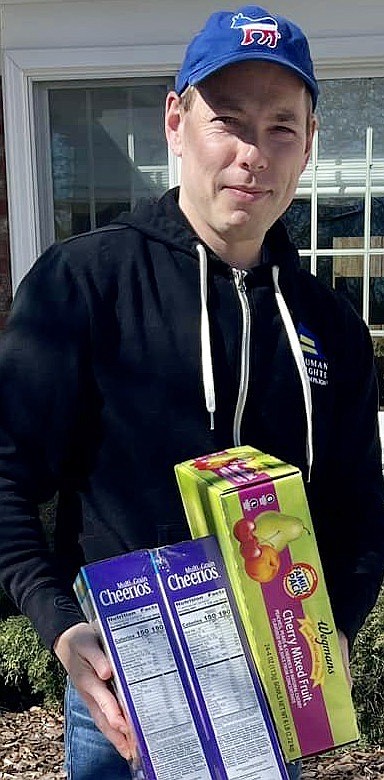 With Virginia holding elections every year, members of the Springfield District Democratic Committee (SDDC) spend many months each cycle planning and assisting with election activities. But as committee chairman, Andrew Scalise says, "Springfield Democrats is more than its name. In addition to helping elect Democrats, our volunteers give back to our community right here in Fairfax County. We chose Britepaths for our February Food Drive to help bring assistance to county residents who are struggling to make ends meet. Britepaths not only provides them with food and gift cards for groceries, but they mentor families and provide services that help them become self-sufficient. That is a lofty goal well worth our support."
As an arm of the Democratic Party of Virginia, the supervisory district committee members provide the local area volunteer organization and activities necessary to support election of Democratic candidates to County, State, and National offices. For elections, the group's activities include: promoting voter registration, protecting people's right to vote, making sure citizens know who is on the ballot, how they stand on issues, where to vote in person and how to vote by absentee ballot.  
Outside of election periods, the group spends time on a variety of efforts contributing to the community. Their February food drive organized multiple drop points for the convenience of donating members, with collectors making multiple deliveries to the charity as supplies accumulated.  Jane Barker, Clifton, said, "George [State Senator George Barker] and I are happy to help out! ….this wonderful organization helps so many local needy families. Also thanks to SDDC for giving us the opportunity to help fill the pantry shelves!"  The February food drive collected approximately $1,200 of needed food stuffs and personal items from Britepaths' urgent and on-going needs lists.  
Next month the SDDC group will conduct a highway litter pick-up event on March 26 as part of its regular commitment to Virginia's Adopt-a-Highway Program to beautify Burke Road. 
The Britepaths pantry, located at 3959 Pender Dr Suite 200, is generally open to receive donations, weekdays from 10 am until 2 pm; 
www.britepaths.org